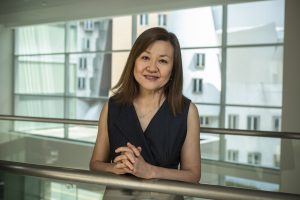 Massachusetts Institute of Technology
43 Vassar St. 46-4325A
Cambridge, MA 02139
Email: lhtsai@mit.edu
Phone: 617-324-1660
Short Biography
Li-Huei Tsai received her Ph.D degree from the University of Texas Southwestern Medical Center at Dallas.
Dr. Tsai completed her postdoctoral work with Ed Harlow's laboratory at Cold Spring Harbor laboratory and Massachusetts General Hospital.
In 1994, Dr. Tsai joined the faculty in the Department of Pathology at Harvard Medical School and was named an investigator of Howard Hughes Medical Institute in 1997.
In 2006, she was appointed Professor in the Department of Brain and Cognitive Sciences, and joined the Picower Institute for Learning and Memory at MIT.
In 2015, she co-founded the Aging Brain Initiative at MIT.
In 2019, she became co-director of the Alana Down Syndrome Center at MIT.
Awards
Outstanding Contributor Award, Alzheimer Research Forum
Alzheimer's Research Consortium
Academician, Academia Sinica
Simons Foundation Autism Research Initiative Award
Member of the National Academy of Medicine
NIH Cantoni Lecture Award
Glenn Award For Research in Biological Mechanisms of Aging
Fellow, American Association for the Advancement of Science (AAAS)
Distinguished Academy Achievement Award, Chinese American Academic and Professional Society
The Javits Neuroscience Investigator Award
The Mika Salpeter Lifetime Achievement Award
Hans Wigzell Research Foundation Science Prize
Fellow, National Academy of Inventors
Member, American Academy of Arts and Sciences
Publications
Check out the Publications page to learn more about Dr. Li-Huei Tsai's published research.
Photo credit: David Sella